The Difference Between Laundry Liquid and Washing Powder
Blog 2017-09-05 879 0
The working principle of laundry liquid is similar to that of traditional washing powder and soap. The active ingredient is a surfactant. The difference is that: traditional washing powder, soap USES is anionic surfactants, alkyl sulfonic acid sodium, and sodium stearate by primarily, strong alkaline (PH is generally greater than 12) washing powder, then when using bigger stimulus and damage on the skin.
In addition, the laundry liquid USES a non-ionic surfactant, which is close to neutral, is mild to the skin, and after being discharged into the natural world, it can degrade more quickly than washing powder, so it becomes a new generation of detergent.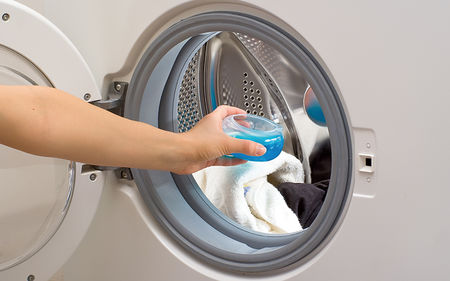 Laundry liquid's main effective components are an ionic surfactant, its structure including hydrophilic side and oil side, in which oil-wet combined with stain, and then through physical movement (such as hand rub, the machine movement) separate the stain and fabrics. At the same time, the surfactant reduces the water tension, so that the water can reach the surface of the fabric and make the effective components play a role.
Distinction
Laundry, the things that are more insipid in life. Laundry detergent has always been a major part of the products used in laundry washing. However, careful people will find that the main components of laundry liquid are non-ionic surfactants, which have a strong ability to decontamination, and can penetrate into the fabric of clothing fiber to play the washing role and decontamination more thoroughly.
The washing powder does not dissolve completely in the process of use, the residue is easy to cause clothing damage, and not easy to rinse. And the laundry detergent can dissolve and dissolve quickly, easy to wash, and will not injure skin and clothing.
Washing powder is generally strong alkaline (PH over 12). Gloves should be worn during use to reduce the irritation of the skin. And the PH value of laundry detergent is neutral, and the formula is gentle without hurting the hand.
The laundry liquid has a higher technical content, which makes it easy to add all kinds of active ingredients. The washing will make the clothes fluffy, soft and smooth, and have the effect of removing bacteria and staying fragrant. The use of a combination of low cost is widely accepted.
The waste liquid produced by washing powder is degraded in nature (especially sodium alkyl benzene sulfonate), which causes water pollution and causes great damage to the ecology. However, the detergent is relatively degraded and the environment is less bad.
*if you did not receive our reply within 24hrs, please resend to our alternative email: [email protected], or call +86-181.5100.0009 directly.
We will never, ever spam you – nor sell, trade, or transfer your email to anyone else.