Wash Your Hands With the Things You Need to Know
Blog 2017-12-18 1,691 0
Most hand contact with the external environment, it is the easiest way to touch on a variety of pathogenic bacteria, wash the hands correctly, can effectively prevent cold, diarrhea, pneumonia, meningitis and hepatitis, bacterial dysentery and other diseases. So, hand washing is the first line of defense against disease.
Which is more effective, soap or hand sanitizer?
At home, it is not too different to wash your hands thoroughly, soap or hand sanitizer. But in public places, hand-washing liquid soap is relatively more suitable than solid, because the hand sanitizer is obtained after each press certain amount, less polluted problems, while solid soap was repeatedly for placement and contact, easy to a variety of pathogenic bacteria contamination. If you have contact with an infected source (such as after nursing), hand sanitizer with alcohol can be further disinfected and cleaned.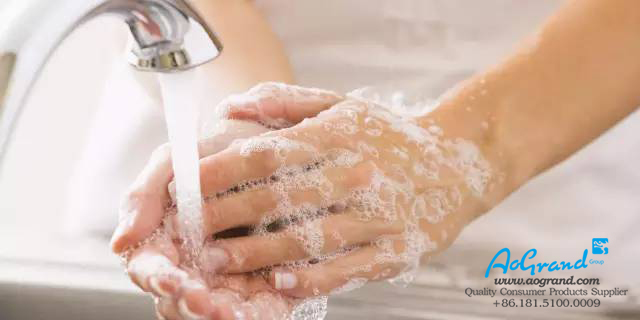 How do you clean your hands?
A lot of times, people wash their hands and get some water, put soap on it, and then they wash it away, and the whole process takes three to five seconds, so it doesn't work. The hands should be rubbed with soap for more than 10 seconds, then rinsed with flowing water. When washing clean soap and hand wash it, should be used to both hands prolapse, let the water from the wrist and hand to the order of the tip of the finger to wash, so as not to let the dirty water pollution of the wrist and forearm again.
What must you do after washing your hands?
Yes. If you do not wipe your hands thoroughly, the pathogen can easily remain on the wet surface and reproduce quickly. So after washing your hands, dry them with a clean towel or paper towel. When there is no condition, you can dry your hands naturally.
AOGRAND GROUP INC.
AOGRAND INTERNATIONAL CORP.
Address: 

Park,Gaochun,Nanjing, 211302, P.R.C.

205 Shuanggao Rd., Qiqiao Ind.

Telephone: +8625.5785.0785

Facsimile: +8625.5785.026
*if you did not receive our reply within 24hrs, please resend to our alternative email: [email protected], or call +86-181.5100.0009 directly.
We will never, ever spam you – nor sell, trade, or transfer your email to anyone else.